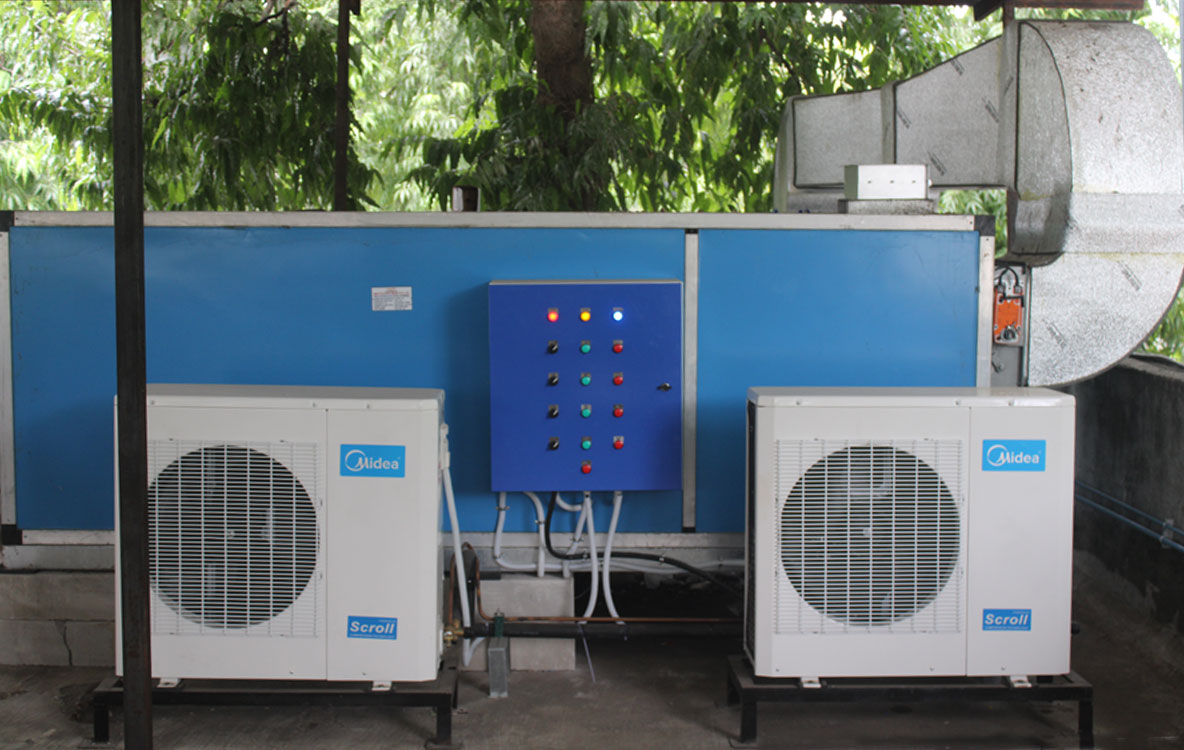 Air Handling Unit
Air Handling Unit is a large metal box which is a channel through which air travels. Actually, this unit has minimum or no subset of components related to the chilling cycle. Air gets regulated and circulated through the unit. These units are connected to ventilation system with ducts. The main function of this system is the distribution of conditioned air throughout a building and returning it back to the unit. In simple terms, it gathers outside air, makes it dust free and after adjusting the temperature it supplies fresh and clean air into the rooms through ducts. As these units are large in size they are generally located at the basement of any buildings. Depending upon the size, the units can also be positioned on rooftops or on floors of buildings.

We at map filter are committed to manufacture and supply best quality Air Handling Unit to our customers at large. We have a unique manufacturing capacity of the units at our locations which are in much demand not only in the national / domestic markets but also in the international markets. We have established a good name for ourselves on a global level in middle east and south African countries.

The functions of an AHU include :
It manages proper ventilation part of the indoor and the outdoor air. The air purification filters inbuilt in the units purify the air before the clean air reaches the ultimate interiors.


To get desired thermal effect in the interior part the unit controls the air temperature and regulates the air conditioning system.


Interior comfort is a must and is achieved by monitoring humidity which is done precisely by the unit.


These units are generally ordered on order to order basis. These are mainly used in large facilities which are visited by many people like a cinema theatre, shopping mall.


The units are also used in workplaces where volatile or inflammable gases are handled.
An Air Handling Unit is comprised of filter, blowers, heat exchangers etc. Some units are such large in size that a technician can go inside the device for maintenance. This unit can be installed with an air filter and also an HEPA filter. We manufacture all sizes of units at our locations, making of smaller units is an easy task, but, we have to take utmost care while making large size units, as these units are generally customized and made as per the guidelines and specifications of our customers.

There are certain advantages and disadvantages of air handling units.
Advantages :
It is cost effective and economical. Better prospects than replacement with a new machine or unit as it may prove costly.


The unit has the capacity to extend the HVAC equipment life, this is because the material used to manufacture the whole unit makes it corrosion free.


The most important benefit it provides is increased air flow and improved humidity control.


It reduces the stinking effect making the atmosphere much pleasant.


It saves energy consumption and improves the sustainable power of the whole system.
Disadvantages :
If the ducts are placed through uneven places or unfinished construction basements, then such units show less efficiency and they won't give results as expected.


Each room through which the cooling passes will not get the same measuring temperature. It may be seen that even within the same room one spot may remain warm, while the other may get colder.


There may be some noise abuse up to certain extent, even if the system is well built and tuned.
We have a bunch of satisfied clients at our credit and this has been possible only because of the best quality air handling units we manufacture, supply and export to our retailers and the end customers. Our main aim is to provide corrosion free units which are low in budget without making any compromise on the quality front. We focus more on durability and low energy consumption units and this has made us a leading supplier of export quality units.